Named in Condé Nast Brides Top 100 Wedding Venues
Rushton Hall named one of the best wedding venues in the UK
As you would expect here at Rushton Hall, we take great pride in each and every wedding we host at our property.
From intimate occasions to grand affairs, couples choose us in part for the personal touches we offer alongside the breath-taking setting we provide.
When it comes to wedding venues in Northamptonshire, Rushton Hall is truly exceptional – we are the only local venue that can boast being named in Condé Nast Brides Top 100 UK Wedding Venues 2019.
Kerrie, our wedding co-ordinator, is delighted about the publication mention, "Being named one of Condé Nast Brides Top 100 Wedding Venues in the UK is a phenomenal accolade for Rushton Hall, as it highlights and projects our beautiful property across further platforms within the industry and beyond!"
The list is only published once a year and is known by all across the Wedding Industry as being a highly recognised and trusted award; Condé Nast is a world-renowned publisher and our inclusion further enhances our standing as a high-end, luxurious and all-round quality venue. "This list also has readership abroad, so it is fantastic news that Rushton Hall can be presented to couples on a worldwide platform."
]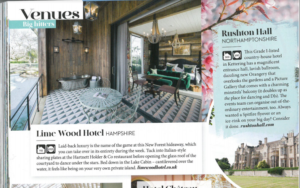 She continued: "As the wedding co-ordinator here at Rushton Hall, it is also an incredible honour to have been mentioned as this not only draws attention to the venue itself, but also across the wider perspective including service levels, food and accommodation options.
For our hotel to be listed amongst other award-winning venues in the Wedding Industry is truly a privilege!"
Our clients and customers have been captivated by the building's charm; from our dedicated wedding rooms to the award-winning Orangery, our venue is as unique as the couples who celebrate with us.
To host your special day at one of the finest wedding venues in Northamptonshire, contact us today.