Visiting Corby In Northamptonshire: A Luxury Travel Guide
A Brief History Of Corby
Corby was occupied in the 8th century by a group of Danish invaders and was named after their leader, Kori. It became known as "Kori's by" (which means "Kori's Settlement") and was later recorded in the Domesday Book as Corbei.
In the early 1930s, the village of Corby had a modest population of 1,500. The local ironstone industry had already expanded due to improved transport links, so when Stewarts & Lloyds built an ironstone and steel works, the population increased exponentially. 
Little Scotland
By the late 1930s, the population of Corby had reached 12,000. This was largely due to the amount of Scottish families who had moved south to take advantage of the rapid growth of the steel industry. It became known as "Little Scotland".
By 1950, the population had increased to 18,000 and in the 1961 census, more than 30% of Corby's population was noted as being born in Scotland. Although that number has since decreased, Scottish roots are still noticeable throughout the town, with Asda stating that their store in Corby sells more Irn-Bru than any other Asda store in England. In addition, many local businesses state that Scottish products outsell their English equivalents.

Decline Of The Steel Industry
When the British steel industry was nationalised in 1967, the government identified five areas where steel production would continue. Each of those areas (Scotland, Teesside, Scunthorpe, Sheffield and South Wales) were all coastal towns, which meant the beginning of the end for Corby's steel industry.
When the first job losses were announced in 1981, more than 5,000 workers were made redundant. Further cuts were made, bringing the total of redundancies to over 11,000 and increasing Corby's unemployment rate to more than 30%.
Things To Do In Corby
Corby is a town that is steeped in history, with many landmarks and attractions on hand to tell the stories of centuries gone by. Here is a short list of some of our favourite things to do.
Rockingham Castle
It is believed that Rockingham Castle was constructed circa 1070, under the order of William the Conqueror.
Enjoying an elevated position, the site would have been chosen for its far-reaching views over the valley and ability to defend against the enemy.
Nowadays, Rockingham Castle is privately owned by James Saunders Watson and is open to the public on certain days of the year. Please check the Rockingham Castle website for up-to-date information.
The Sundew Sculpture
The Sundew Sculpture has sat proudly at Corby Railway Station since 2017, having been chosen by members of the public and constructed from steel that was produced at the town's Tata factory.
The sculpture was named after the dragline excavator that was used in Corby steel works, which actually took its name from the winning horse in the 1957 Grand National.
The Sundew Sculpture can be viewed by anyone visiting Corby railway station and is certainly worth a look when paying the town a visit.
The Steelman Memorial Statue
With such a deep connection to the steel industry, the Steelman statue serves as a tribute to the workers and a reminder to the future generations of Corby.
Standing in front of The Cube building, the Steelman statue can be seen when venturing into the town centre.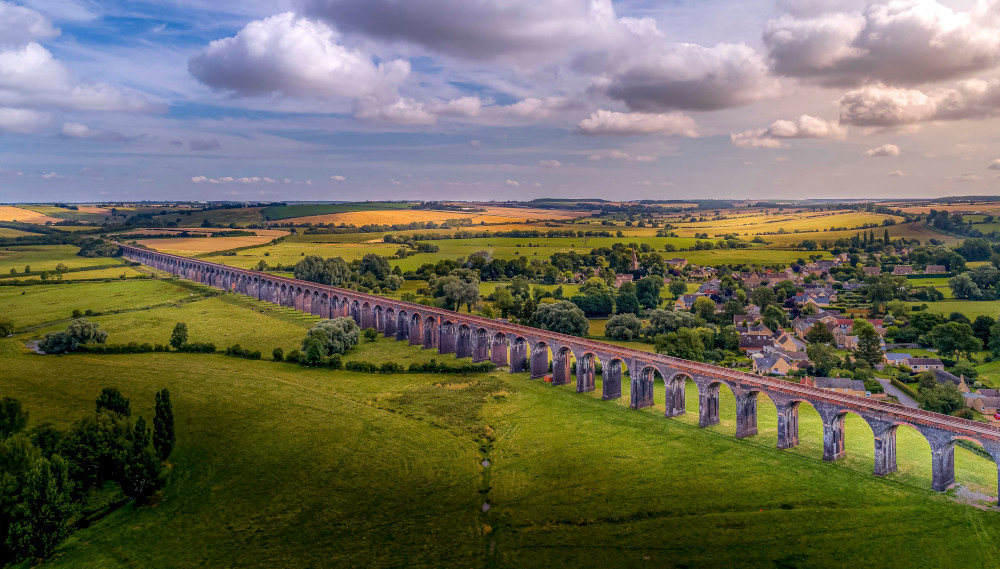 Welland Viaduct
The Welland Viaduct (also known as the Harringworth Viaduct) is a remarkable example of Victorian engineering.
It boasts 82 arches and runs for more than 1 kilometre. With an estimated 20 million bricks used in its construction, it really is worth paying a visit to marvel at this wonderful feat.
Despite being over 100 years old, restoration work has strengthened the viaduct and it is still used on a daily basis.
Rockingham Forest
Once frequented by William the Conquerer and his hunting companions, Rockingham Forest is now the subject of conservation and expansion projects.
Red Kites were introduced to Rockingham Forest in the 1990s, just 100 years after they were extinct in both England and Scotland. Fast forward to today and these majestic birds are now thriving in this wonderful habitat.
Nestled in between the Nene and Welland rivers, the individual woodlands that make up Rockingham Forest have been identified by the Wildlife Trust as vital to the future of many species in the area. New habitats will be created and others will be re-linked in the hope of expanding the overall woodland area.
With many beautiful walking trails available in Rockingham Forest, it is a peaceful and picturesque way to spend a few hours.
Shopping In Corby
For those who like a bit of retail therapy, there are plenty of opportunities to shop in the town of Corby.
Corby Town Shopping & Willow Place is definitely the most popular destination in Corby, and is arguably one the premier retail destinations in the whole of Northamptonshire.
Open 7 days per week, there are more than 150 shops, bars and restaurants to satisfy your every need, as well as bookmakers, gyms and entertainment spaces.
Located less than 2 miles from the centre of Corby and around 5 miles from Rushton Hall Hotel & Spa, Corby Town Shopping & Willow Place is a must visit when you are visiting Northamptonshire.
Famous People In Corby
There are many famous names and faces that were born or reside in Northamptonshire, and our list celebrates those who are affiliated with the town of Corby.
John Anderson
John Anderson is well-known to the general public as the referee on the hit TV show, Gladiators. What many people don't know is that he trained Olympians at every Olympics from 1964-2000 and coached Corby's William Sharman early in his hurdles career.
Mark Lawrenson
Arguably most famous as part of the Liverpool team that dominated football during the 1980s, "Lawro" appeared for Corby Town during the twilight of his career in the early 1990s.
Alexander Beleschenko
One of the most prolific architectural glass artists ever, Alexander Beleschenko was born in Corby to Ukrainian parents. Among his various accolades, The Royal Society of Arts have awarded him the Art and Architecture Award on two separate occasions.
Brendan Coyle
After securing his first acting roles in the early 1990s, Brendan Coyle's career really took off in 2010 when he landed the part of John Bates in the period drama series, Downtown Abbey. Although he now lives in London, Coyle was born and brought up in Corby.
Mad Dog McPhie
One of the UK's most famous wrestling exports, Stewart "Mad Dog" McPhie wrestled in various wrestling promotions from the time he made his debut in 1993, until he retired through injury in 2002. He still resides in his hometown of Corby, where he now works as a bouncer.
Directions From Corby To Rushton Hall Hotel & Spa
Rushton Hall Hotel & Spa is located around 7 miles from the centre of Corby, a journey which takes around 10-15 minutes if you are travelling by car.
To reach Rushton Hall Hotel & Spa from Corby (assuming you drove and parked at Willow Place Shopping Centre) then you must head south on George Street, before negotiating 6 roundabouts in quick succession.
At the first roundabout, you should take the 3rd exit onto Jubilee Avenue and then the 2nd exit onto Sower Leys Road at the next roundabout. At the third roundabout, you need to take the 3rd exit onto Oakley Road before taking the 2nd exit at the next two roundabouts and finally the 3rd exit, while remaining on Oakley Road.
Turn right onto Station Road before turning left onto Rothwell Road and then turn right onto the driveway of the Rushton Hall Hotel & Spa.