Decorating the hotel for Christmastime
Christmas is almost here, and many couples or families opt to take one of our luxurious and memorable Christmas breaks. In Northamptonshire at this time of year the festive spirit is tangible, and we look forward to welcoming guests into our home.
Should you be unable to join us this year, you can enjoy our decorations via the medium of this blog.
Teddy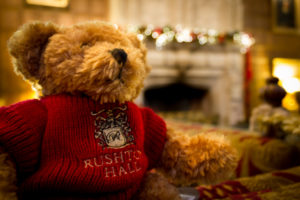 Just as our furry friend is enjoying a break in the library, you too could relax by the fireplace.
The Library
Guests and staff alike adore the atmosphere of our library, and we take great delight in adorning the fireplace and mantel with garlands to celebrate Christmastime. The reds, greens and golds perfectly complement the interior and traditional aspects of the room. Many of our guests like to relax and pore over a magazine or book during some downtime – this room is particularly popular come Boxing Day.
Staircase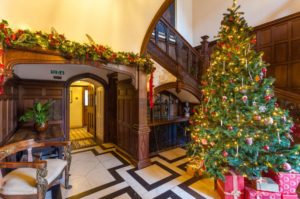 Make your way to the staircase and you will find period woodwork and gifts patiently waiting in situ. The largest garland on the property sits proudly adjacent to the staircase. Here, guests can truly get into the festive spirit as they head off to their rooms for a welcome rest.
We're renowned as one of the finest country hotels in Northamptonshire – and for good reason. Our delicious dining, serene spa and resplendent rooms have all the makings of an unforgettable getaway.
To find out more about how you could be enjoying one of our Christmas breaks in Northamptonshire, contact us today.